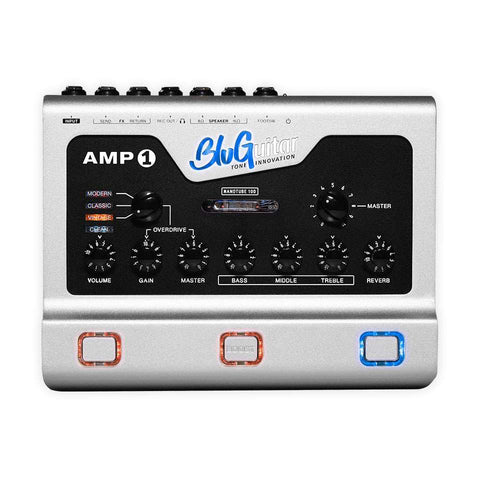 BluGuitar Amp1 Mercury Edition
---
Please Use The Contact Details Below To Order This Product
Castlebar 094 9025 896 / Galway 091 568 719
---
The AMP1 Mercury Edition has enjoyed growing popularity since its release, and the global user community around professional guitarists such as Jennifer Batten, Uli Jon Roth, Kat Dyson and Ian Crichton is constantly growing.
The revolutionary Nanotube technology, which is up to par with traditional boutique tube amps in terms of authentic sound and real feel, has set a new standard for guitar amps: a guitar amp that meets the demands of a professional guitarist on stage and in the studio, yet is small and light enough to be carried around in the glove compartment or gig bag. VERSATILE & LOUD
A wide range of sounds from Jazz to Metal in top quality, the enormous power and character of old tube amps without any loss or compromises in a compact housing, combined with a concept including all important functions and without unnecessary frills. A guitar amp that satisfies purists and programming freaks alike - this guitarist's dream is called BluGuitar AMP1 Mercury Edition: Four expressive channels of pure tone paired with 100 watts of pure tube tone power!
 

EASY TO HANDLE & FLEXIBLE
You can take your AMP1 Mercury Edition with you wherever you go - it fits right in your gig bag. It's incredibly compact and very light. Just to make everything that little bit quicker before and after the gig, the AMP1 Mercury Edition can be securely attached to (and then removed from) a single handle on your pedalboard or amp cab thanks to EASYLOCK, the magnetic attachment system from BluGuitar. With the REMOTE1 floor control, you can build AMP1 Mercury Edition into a fully programmable amp system — including adjustable power soak, master, volume, gain and MIDI functions. The AMP1 Mercury Edition offers you the ultimate in practicality and tonal flexibility.

 INDIVIDUALITY
The AMP1 Mercury Edition will make you stand out from the crowd. It offers you every possibility to find your own personal tone without delving into a jungle of digital sub-menus and secondary functions. 
If you're a player who needs just two basic sounds, then the AMP1 Mercury Edition is your perfect match. Should you require more tones from the unit, REMOTE1 offers a bunch of extra possibilities. Plus, if you want to integrate your favourite pedals into your AMP1 Mercury Edition setup, you can use the REMOTE1 with the LOOPERKIT to quickly and easily create a fully programmable switching system featuring four true bypass relay loops. You decide what you need.
---