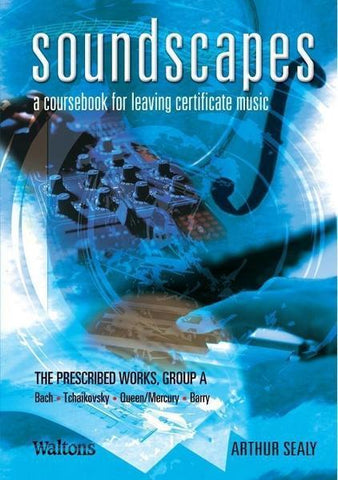 Soundscapes - The Prescribed Works Group A - Vol 1
Soundscapes is a series of compact classroom coursebooks for Leaving Certificate Music. This volume provides context, in-depth analysis, and focussed listening for the four Group A prescribed works (Bach, Tchaikovsky, Mercury/Queen, Barry) and is suitable for both ordinary and higher level students.
Each of the works is examined under four headings:
1. THE COMPOSER AND HIS TIMES (or The Group and Its Time for 'Bohemian Rhapsody') Includes timelines and biographical information which place the composer/group and his/their music in both historical and musical contexts, covering such aspects as period style, background and cultural influences. In the Mercury/Queen chapter, this section includes information about production using technology.
2. THE WORK Students get to grips with the prescribed work, with extensive background information and comprehensive bar-by-bar and thematic analysis.
3. THE EXAM Takes students through the areas of study and focussed listening necessary for the listening exam and includes numerous carefully-selected questions from past exam papers.
4. BEYOND THE EXAM Students advance their own interests in one or more of the studied works and composers with related listening and further research projects in music, art or literature. This could take place as part of class study in Transition Year (or a special-project focus) or during the first year of a two-year study programme towards the Leaving Certificate Music exam itself.
INCLUDES
over 120 music examples and picture illustrations
numerous quotations from international music scholars and experts
boxed definitions of key concepts and styles
a comprehensive glossary of over 200 musical terms
---