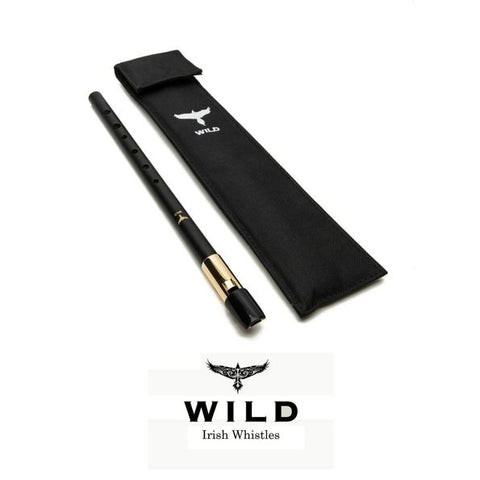 Wild Irish Whistle Key D
---
Please Use The Contact Details Below To Order This Product
Castlebar 094 9025 896 / Galway 091 568 719
---
The Wild Irish D Tin Whistle
Launched in 2021, we were thrilled to announce the introduction of the brand new Wild Irish Whistle to our collection of tuneable tin whistles. Featuring a bright, clear tone, and excellent responsiveness... Find out why this is the only tin whistle you will ever need.
The weighted brass body is comfortable to hold and perfect for long bouts of playing. The Wild Whistle requires minimal air flow, making it incredibly player friendly and suitable for players of all levels, from absolute beginners to professional level. 
7-Time All-Ireland Champion, Robert Harvey, plays 'Belhavel Lough' on the Wild Whistle below: 
We've made this whistle from brass due to its excellent acoustic properties. Brass gives a brighter and more responsive sound than aluminium. The brass fipple also features a sturdy Delrin cork which helps to create a strong, clear tone.
The fipple plays a crucial role in the tone any whistle produces. That's why ours is made from Delrin. Delrin is a polymer that offers high wear resistance and longevity. It also helps to produce a brighter tone that will cut through any session.
It's designed with a sleek, stylish matte black finish which will turn heads at any Irish music session.
Don't let the price confuse you. This is a premium whistle, among the top whistles on the market, but offered at a budget friendly price. The Wild Whistle will make a beautiful sound from the moment you pick it up to play your very first note. You'll be excited to practice on this quality instrument. It will take your playing to the next level in no time at all. 
Comes With A Wild Whistle Case
Key Features of the Wild Irish Whistle 
Tuneable
Key of D
Brass fipple with Delrin cork
Brass body
Matte black finish
Strong, clear, sweet tone
Clear, bright sound on the higher notes
Comes with a premium soft padded whistle case [while stocks last]
Length: 11.5"
---